This New Game Lets You Play As A Snowboarding Horse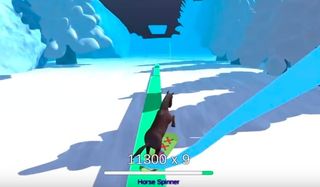 Do you remember the glory days in the early years of PlayStation when you couldn't wait to get "tricky" with SSX and SSX Tricky? Yeah, this is nothing like that. Snow Horse is the Xbox One and PC game from Kinifi Games where you literally get to snowboard down a mountain as a horse. You can view the official teaser trailer below.
Obviously catered toward fans of Goat Simulator, the creator of Snow Horse, Chris Figueroa, described the game as one you never asked for with made-up points. Seriously, you're a horse riding a snowboard. Could you really ask for anything more?
Figueroa mentioned in a Tweet that a playable beta would be arriving soon before the game's release along with a customizable horse at some point in the future.
Snow Horse is not a game to be taken seriously and takes pride in the fact that it was rejected in an indie game contest put on by Taco Bell. Oddly enough, the game's popularity has been taking off with websites like GameSpot and IGN writing news briefs on its announcement. What has people so excited for the Unity-designed game? It's outrageous in nature, so much that there's a certain likability about the concept. It's so senseless that is just makes perfect sense. Does that even make sense? Other people on the internet are not as happy with the idea of another dumb, zany game.
Underneath the GameSpot article in the comments section, one of the users writes that the game is trying to sell itself on random humor, and that there's no substance behind the concept. Another user in the comments section calls the game crap, saying that games like this are dropping the quality of video games just like crap movies in the film industry. And then another user on Twitter responded to IGN's post about the game.
The internet is seemingly split between whether or not this game is worth anybody's time. Because you have some Twitter users who can't get enough of the strange humor.
Well, those diehard fans won't have to wait long. Snow Horse is slated for release on PC and Xbox One in early 2016.
Your Daily Blend of Entertainment News
Thank you for signing up to CinemaBlend. You will receive a verification email shortly.
There was a problem. Please refresh the page and try again.