GamesCom 2009: Battlefield: Bad Company 2 Release Dates Revealed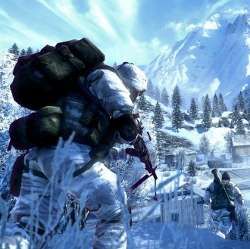 Not content to merely announce one big release date in their GamesCom 2009 press conference, EA has also revealed when you'll be able to get your hands on DICE's first-person shooter Battlefield: Bad Company 2.
Battlefield: BC 2 will arrive on the PC, PS3, and Xbox 360 on March 2, 2010 in North America. European gamers will receive the game on March 5th. The game had previously announced as a "Winter" release earlier this year and technically these dates stick to that estimate. Would've been nice if it were on the 2009 side of the fence, though.
BC 2 sports 46 customizable weapons and 15 vehicles for both single-player and multiplayer. The game is powered by the Frostbite Engine, also used in Battlefield: Bad Company and Battlefield 1943.
Staff Writer at CinemaBlend.
Your Daily Blend of Entertainment News
Thank you for signing up to CinemaBlend. You will receive a verification email shortly.
There was a problem. Please refresh the page and try again.