GamesCom 2010: Bulletstorm Shoots Up Four New Screenshots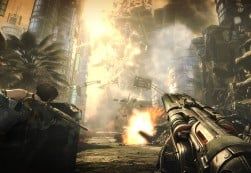 Bulletstorm was never one of those games that really caught my eye, but it seems to be quite popular among the diehard shooter crowd. With that said, diehard shooter fans will be pleased to know that four new bullet-heavy screenshots have arrived for EA and Epic's FPS, Bulletstorm.
The shots are brief and sparse and are all contained within a simple segment of the game. In other words, just typical media asset trash. Still, if you're interested in seeing an already demolished landscape receive some extra debris from an exploding building or a giant sewer-dweller eye a guy in a flying bicycle, then you'll enjoy the new screenies below.
Bulletstorm is set for release next year for Xbox 360, PC and PS3. For more info feel free to pay a visit to the Official Website.
Image 1 of 4
Image 2 of 4
Image 3 of 4
Image 4 of 4
Staff Writer at CinemaBlend.