GamesCom 2011: Sonic Generations Gameplay Trailer And Screenshots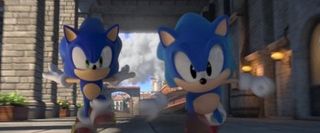 Another standard-fare set of media assets were released for the highly anticipated, semi-reboot of the Sonic franchise, Sonic Generations. The new screenshots show off some classic stages in 3D and the new trailer shows off some brand new environments and bad guys.
The trailer is mesmerizing, indeed. However, I think the screenshots contain a more nostalgia-ridden flair that brings back some fond memories. You can check out the new trailer below.
For those of you who don't know, many of the levels will have two facets: one will be playable as a side-scrolling platform game and the other will be a third-person platform-racing game. The concept is ingenious and I'm shocked it took Sega so long to get Sonic back to his roots while still managing to maintain a sense of originality with the gameplay and the level designs.
You can check out some of the new Nintendo 3DS screenshots below or head on over to the Official Website to learn more about the game. Sonic Generations is set to release this November for handhelds and home consoles.
Image 1 of 19
Your Daily Blend of Entertainment News
Staff Writer at CinemaBlend.