Ghost Recon Future Soldier Gunsmith Walkthrough Tutorial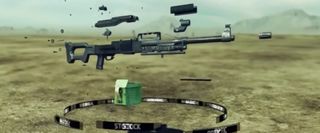 While Ubisoft's Ghost Recon Future Soldier isn't set for release until May, new videos have already emerged giving gamers a complete walkthrough tutorial of how to edit, customize and personalize the weapon of your choice.
GameTrailers has up a series of new videos detailing many of the gameplay and customization facets of GR: FS and the video you're about to see is seven full minutes of gun customization fun.
The video doesn't go into full detail for all the weapons on the game, just a few of them but the main idea is that gamers get the gist behind the weapon customization. It's about as equally detailed as the customization features in the Korean online FPS, Operation 7. Check it out below.
Pretty impressive, eh? Depending on how well the game handles the balance of various weapons and weapon mechanics will determine whether or not certain guns will be exploited. Funnily enough, despite being able to fully customize your gun on Operation 7 there is no specific "go to" gun in the game that gets it done in every situation, which creates a nice, balanced atmosphere for gun-based PvP.
It looks like Future Soldier keeps things fairly realistic and that would definitely serve the mechanics better as opposed to trying to make each gun serve a very specific purpose (i.e,. APB: Reloaded).
Ghost Recon Future Soldier is set for release on May 25th for the Xbox 360 and PS3, with a PC version to follow thereafter. A multiplayer beta is expected to take place in April. You can learn more about the game by visiting the Official Website.
Your Daily Blend of Entertainment News
Staff Writer at CinemaBlend.
Your Daily Blend of Entertainment News
Thank you for signing up to CinemaBlend. You will receive a verification email shortly.
There was a problem. Please refresh the page and try again.