Giveaway: Disney Pixar's Brave The Video Game (Closed)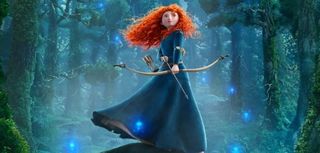 Disney and Pixar are teaming up to give away a free copy of the newly released Disney Pixar's Brave: The Video Game for the gaming platform of your choice, including the Xbox Kinect, PlayStation 3, Wii, PC or Mac. The steps to win a copy is easy and it basically involves watching a YouTube video.
The giveaway is being sponsored by the Disney Pixar's Brave obstacle course, which sees YouTube celebrities competing in four different events to win your favoritism and unadulterated interweb love. And we all know that YouTube celebrities live and breathe on unadulterated interweb love...otherwise they would fade away into the ether with a grand puff of self-glorifying dust.
So let's get to the meat and potatoes of the giveaway: Disney Pixar's Brave: The Video Game follows the character Merida from the film of the same name as she runs, jumps and does all that other stuff you would expect from an adventure-based platforming game spawned from a movie.
So how does this tie into the Brave obstacle course hosted by Disney? Well, after watching the video you'll have to select who you want to win based on their performances (or based on your favoritism of who looks best in a red wig and a sexy Scottish kilt). The rules for entry are below.
1.) Watch the Brave Obstacle Course Video
2.) Pick your favorite YouTube celeb from the video
3.) Let us know who your favorite is as well as the platform you want the game for on our Facebook Page.
4.) Wait in anticipation
We'll also be giving away two codes for the iOS game Brave Temple Run for two lucky runner-ups. Seems simple enough yeah? Well, it is...except for the disclaimer at the bottom of this post which you are required to read before entering. Sorry, it's "teh rulz", we certainly don't set up the restrictions for the "lolz"...or then again, maybe we do. Ahahaha. You can also learn more about Pixar's Brave by visiting the Official Website.
Disclaimer: Disney Interactive is sponsoring this contest and the Brave YouTube obstacle course. We are not owned, affiliated or associated with Disney Pixar. All participants must be U.S. residents or located within the U.S. to be eligible to claim the grand prize. Winners must allow for up to three weeks for the prize to be processed and shipped to them.
Your Daily Blend of Entertainment News
Staff Writer at CinemaBlend.