GlaDOS Protests Scientology With Anonymous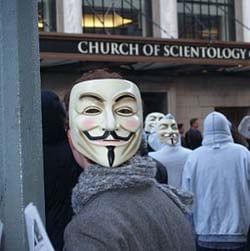 Yesterday a group calling themselves "Anonymous" held their second anti-Scientology protest in response to the Youtube video of Tom Cruise discussing his barking-mad religion being pulled by the Church of Scientology. Not much is known about the group as they have refused to identify themselves on all counts and were instructed to obscure their identities by a familiar voice, GlaDOS.
No word on if Portal developer Valve was involved at all, but a video of instructions and rules of how to protest made the Youtube circuit two weeks ago. "Anonymous" organized yesterday's protest as a worldwide, synchronized protest using the voice that is familiar to gamer and internet culture. The voice and images add a certain amount of gravity to the instructions and is a very impressive piece of propaganda.
"Anonymous" has been building support, as was evident yesterday when hundreds of protestors showed up outside of Scientology centers worldwide. Evidence of this, as GlaDOS instructed, has appeared on Youtube in the past twenty-four hours. Since, "Anonymous" has "declared war on Scientology" and the Church of Scientology has sworn to stop "Anonymous". Surely this is a zany battle that will be interesting, if not damn entertaining to watch unfold.
Image courtesy of David Shankbone.
Your Daily Blend of Entertainment News
Thank you for signing up to CinemaBlend. You will receive a verification email shortly.
There was a problem. Please refresh the page and try again.