God Of War: Ascension Goes Digital, Multiplayer DLC Wraps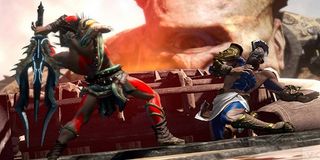 If you were hoping for more downloadable content to arrive for God of War: Ascension's online mode, it looks like the gods were not in your favor, as the developer announces that, aside from some support updates and tweaks, the goodie well has run dry.
Made official via the PlayStation Blog, Sony Santa Monica Studio Community Strategist Aaron Kaufman revealed that the team will be halting development on new additions to God of War: Ascension in order to move on to other projects. You might actually want to swing by that link if you find yourself enjoying the game's music, as the soundtrack title, "The Marked One," has been made available as a free gift.
Arriving on the PlayStation 3 in March of this year, Kaufman stated that the studio has provided a "vast amount of DLC" for this latest legend of Kratos, including new weapons, maps game modes, gear, marks (tattoos) and more.
"Even the gods could not have predicted the level of popularity and impassioned connection to our multiplayer mode driven by the PlayStation Nation," Kaufman said. "As of today, we will not be producing any more DLC content for God of War: Ascension multiplayer, as our primary team resources start to transition to other projects here at Sony Santa Monica."
However, Kaufman goes on to explain that the team's support of the game is not yet dried up, as several updates are coming down the pipeline including a balance update, dedicated online support and, perhaps the biggest announcement of them all, the fact that God of War: Ascension will finally be making its way to the PlayStation Network as a digital release on Oct. 15. At that time, all DLC items will receive special pricing for newcomers and those who have simply been holding out on making a purchase of additional in-game goods. The game's soundtrack will also be made available through PSN, and the team will host a Double XP weekend from Oct. 18-21.
I think Kaufman's right when he said that nobody could have predicted that the God of War online mode would be so well received. It's a game that, if we're being honest, doesn't really need a multiplayer option. But the team managed to meld the GoW controls and universe into a fun arena setting, giving players the ability to represent their favorite god as they battled online opponents in blood-soaked combat in arenas torn from the game and inspired by legend.
If you haven't taken Ascension for a spin just yet, you can grab it on the DL starting Oct. 15. Otherwise, those of you who have played the game but have not yet purchased any of the additional content will want to take a gander at those discounted price tags on the same date.
Staff Writer for CinemaBlend.
Your Daily Blend of Entertainment News
Thank you for signing up to CinemaBlend. You will receive a verification email shortly.
There was a problem. Please refresh the page and try again.