God Of War: Ascension Patch Fixes Trial Of Archimedes, Adds New Skins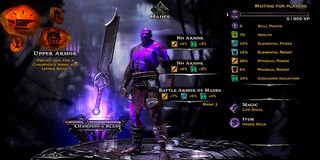 Spartans still duking it out in the new God of War: Ascension multiplayer will notice a couple of small changes next time they boot up the game as update 1.03 has gone live, adding some new player skins and adjusting the Trial of Archimedes.
Sony Santa Monica Studio Community Strategist Aaron Kaufman highlighted the update on the PlayStation Blog, saying that the team continues to take player input into consideration and will continue to adjust Ascension's multiplayer component accordingly.
"We're pleased to announce the release of our latest 1.03 update," Kaufman said. "Though this update may be small, it throws an added support line at the Trial of Archimedes and enhances multiplayer customization with a new appearance feature for your champion-we call them 'Marks.'"
Having heard from oodles of fans that the Trial of Archimedes was simply too challenging, the team has added a health and magic boost between each of the challenges three levels.
As for those Marks, just think of them as full-body tattoos for your online avatar. Four marks are god specific (Hades, Ares, Zeus and Poseidon) while the other two (Trojan, Spartan) can be worn by all. Equip em, change their color and help set your warrior apart from the pack.
If that seems like slim pickings, don't worry. Kaufman promises more tweaks are on the way.
"This is just the beginning of post-launch support for God of War: Ascension," he said. "As stated previously, we have an influx of DLC in the weeks ahead to support your strategic play style, and an unannounced fourth weapon class."
Staff Writer for CinemaBlend.
Your Daily Blend of Entertainment News
Thank you for signing up to CinemaBlend. You will receive a verification email shortly.
There was a problem. Please refresh the page and try again.