God of War Portable Collection Brings Ghost Of Sparta, Chains Of Olympus To PS3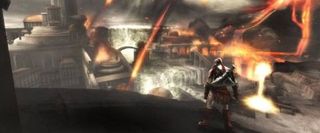 PS3 owners fiending for more God of War won't have to wait until the fourth installment. Sony is planning to bundle the PSP games God of War: Chains of Olympus and God of War: Ghost of Sparta together and release them for the PS3.
According to Magic Box (via Eurogamer, God of War Portable Collection updates both games with higher resolutions and better visuals. There's no mention of other extra features. It seems worth noting that the God of War Collection - a Blu-ray compilation of God of War and God of War 2 - came with a demo for God of War 3. I don't expect of GoW4 demo with the Portal Collection but a trailer seems like a reasonable thing to hope for.
Chains of Olympus and Ghost of Sparta essentially fill in the gaps of the three console GoW editions. They flesh out Kratos a bit more and explain why he's so damn angry all the time. The PSP GoW installments are a pretty faithful recreation of the console gameplay, too, so it should sate PS3 owners' desire to kill mythological beings.
The Portable Collection is due in Asia on July 7th. No word yet on whether other territories will receive this bundle. It's possible that they'll hold off on the announcement for North America until E3.
Staff Writer at CinemaBlend.
Your Daily Blend of Entertainment News
Thank you for signing up to CinemaBlend. You will receive a verification email shortly.
There was a problem. Please refresh the page and try again.