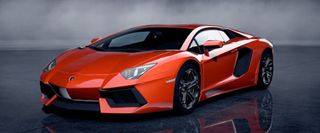 Polyphony Digital will be releasing two more pieces of downloadable content for PS3 racer Gran Turismo 5 on January 17th. Car Pack 3 and Speed Test Course Pack will be available for $5.99 and $3.99, respectively.
Car Pack 3 will introduce six vehicles to the game. It's an electic bunch: the Lamborghini Aventador, Jaguar XJR-9 LM racecar, Aston Martin V12 Vantage, the 66′ Volkswagen 1200, Mini Cooper S Countryman, and the Nissan Leaf. Yes, they threw in an electric car. Deal with it.
The Speed Test Course Pack adds the Route X test course. Route X is a huge oval with tall corners. It's a good way to good place to test your vehicle's speed. You can track your mile and quarter-mile times, along with your acceleration and g-force.
Next Tuesday will also see the release of the XL edition of GT5. The XL edition is a $39.99 bundle that includes the base game and a downloadable content voucher.
Image 1 of 6
Your Daily Blend of Entertainment News
Staff Writer at CinemaBlend.