Grand Theft Auto: Ballad Of Gay Tony Full Weapons List, Screenshots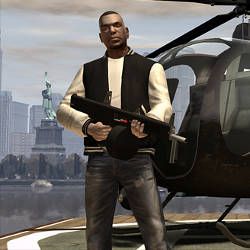 In addition to new missions and characters, Grand Theft Auto: Ballad of Gay Tony will introduce several new weapons. Today Rockstar Games provided the list of new armaments as well as screenshots of them in action. All of them sound pretty vicious:
Pistol .44
Explosive Shotgun
Assault Submachine Gun
Gold Submachine Gun
Advanced Machine Gun
Advanced Sniper Rifle
Sticky Bombs
Though not technically a weapon, Rockstar confirmed in the same announcement that you will get your hands on a parachute. Granted, we already knew there was sky-diving in the game but now we know that it's not just limited to one mission. Seems you'll be able to carry a chute around with you as you travel the city.
Gay Tony arrives on October 29th. You can download it through Xbox Live for 1600 Microsoft Points ($20) or purchase the $40 retail bundle, Episodes of Liberty City, which includes the previous expansion The Lost and Damned. You'll need to own GTA IV to buy Gay Tony through Xbox Live but Episodes is a completely standalone product.
Image 1 of 6
Image 2 of 6
Image 3 of 6
Image 4 of 6
Image 5 of 6
Image 6 of 6
Staff Writer at CinemaBlend.
Your Daily Blend of Entertainment News
Thank you for signing up to CinemaBlend. You will receive a verification email shortly.
There was a problem. Please refresh the page and try again.