Great Scott, Rocket League Gets A DeLorean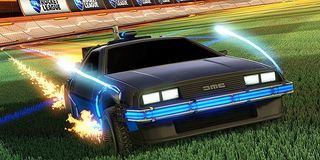 Rocket League, the popular competitive game that mixes arcade-style driving with insane soccer action, is about to go back to the future; by which we of course mean that the game will soon boast some DeLorean DLC modeled after the time-hopping automobile from the Back to the Future films.
Announced today through the PlayStation Blog, the team at Psyonix is gearing up to add one of the most legendary vehicles in cinematic history to the Rocket League roster. According to VP of Marketing Jeremy Dunham, getting the official Back to the Future DeLorean in Rocket League was something of a dream come true for the studio.
It what has turns out to be a smashing bit of timing, the Back to the Future Car Pack will arrive in Rocket League come Oct. 21, 2015. For fans of the films, you'll probably recognize that as being the exact date Marty McFly arrived in Back to the Future II. We never did get our hoverboards…Not that I'm bitter or anything.
Speaking of rad modes of transportation, the Back to the Future DLC comes with the car, obviously, as well as its "Burnt Rubber" rocket trail for when you hit the boost. Once Oct. 21 rolls around, I suspect the pitches of Rocket League will be utterly packed with would be time travelers. That collection will set you back just $1.99.
This actually marks the third set of DLC to pop up in the surprise hit of the year, Rocket League. The original DLC pack included a couple of new muscle cars that might as well have been ripped straight out of The Fast and the Furious. Next up, starting tomorrow, fans can get their hands on the Revenge of the Battle-Cars DLC pack, boasting a pair of bodies from Rocket League's predecessor and a bunch of extra goodies to deck out your ride for $3.99.
If that's still not enough to tide you over, Psyonix announced last week that a bunch of free Halloween DLC will be plugged into the game in the coming weeks. To get it, all you have to do is play the game and cross your finger that one of these "treats" unlocks at the end of a match.
Staff Writer for CinemaBlend.
Your Daily Blend of Entertainment News
Thank you for signing up to CinemaBlend. You will receive a verification email shortly.
There was a problem. Please refresh the page and try again.