Rocket League Will Get Supersonic Fury DLC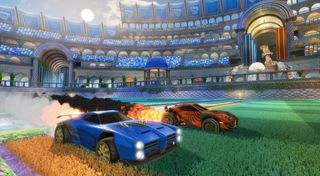 After selling more than 5 million digital copies of Rocket League, Psyonix has been on a tear in the public sphere with plenty of positive feedback. They're now looking to keep that momentum flowing with the first DLC pack for the game called "Supersonic Fury" DLC.
Over on the PlayStation Blog Jeremy Dunham, the vice president of marketing for Psyonix, rolled out a new trailer for the DLC and explained what the content pack would contain. Check out the trailer below.
The pack contains two brand new cars, an American-themed muscle car named the Dominus and a Japanese tuner-themed named the Takumi. There are six decals for each car. The pack also contains two new rocket boosts, two new wheel-sets, all new paint types and several new Trophies. I wonder how well some of the purist will take it that the Trophies are attached to to the DLC?
The new content will be made available in early August for only $3.99.
The team is also fixing up a few things in the game, including the explosion effects after a successful goal and the demolitions. They also have plans on adding in a free song from Hollywood Principle called "Firework".
Rocket League has been barreling through the gaming space with a strong user base and a lot of potential for competitive e-sports.
Speaking of e-sports... Psyonix mentioned in the blog post that they will be adding full functional spectator controls. Gamers will be able to dip into a match and look around during a match as a spectator, checking out every angle of the action without restrictions.
I imagine if Rocket League does become a legitimate e-sport that an outlet like the ESL would use multiple spectator cameras to record every inch of the action from every viable angle possible.
Rocket League has been described by a lot of PS4 and PC gamers as addictive and completely engrossing. The game's simple mechanics but hard to master depth makes it one of those games where players spend an inordinate amount of time trying to figure out every single little thing about the game.
There are already plenty of tutorials spread out across the great expanse of YouTube as a lot of gamers are looking for help in figuring out how to perform some of the more advanced field maneuvers as well as better understand the physics that power the game.
It's kind of funny seeing the amount of dedication put into what's effectively Micro Machines meets FIFA.
Anyway, Rocket League is available right now for PC and PS4 and the DLC is set to go live in early August for only $3.99.
Staff Writer at CinemaBlend.
Your Daily Blend of Entertainment News
Thank you for signing up to CinemaBlend. You will receive a verification email shortly.
There was a problem. Please refresh the page and try again.