Back To The Future's Coolest Futuristic Gadget Is Becoming A Reality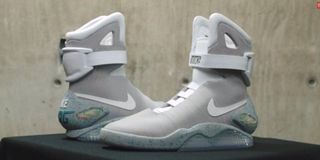 It's 2015, and fans of the film Back to the Future know that this is a pretty significant year. We have finally arrived at the year that Marty McFly travelled to in Back to the Future 2. While our world doesn't look quite like the world Marty experienced in the film (though, eerily, a lot of the stars look like their older counterparts from the film), some of the coolest bits of tech from that movie are actually becoming a reality. The latest development in Back to the Future-inspired tech coming to life: Nike Mags with actual, working power laces.
What a time to be alive, am I right?
This isn't the first time that we've seen the McFly-inspired Nike Mag on the shelves. Designer Tinker Hatfield created a limited number of these shoes a few years ago, and sold them off at auction. All the proceeds from the auction went to Michael J. Fox's Parkinson's research group, The Michael J. Fox Foundation.
While the shoe looked great and the auction offered support to a great cause, there was notably one thing missing from the Mags -- the power laces. As Nice Kicks reports, it seems like fate and shoe design science just wanted to wait for the right time to bring Nike Mags with actual power laces into the world. Hatfield is reported as saying that we will certainly see Nike Mags with power laces unveiled this year.
It seems like 2015 is the year of Back to the Future. The film will be celebrating its 30th anniversary this year, and Secret Cinema will be hosting an immersive screening of the film in Los Angeles. But if you're not in the L.A. area, you can still celebrate this important anniversary. Thanks to a company called Hendo Hover, you can buy an actual hoverboard (awesome, eighties neon paint not included), and now you can get yourself a pair of Nike Mags with power laces. All we need is a Delorean and a puffy zip-up jacket, and we can all basically become Marty McFly this year.
If you want a bit more info on the shoe, Jordan Howenstine at Nice Kicks talks a bit more about the evolution of the Nike Mag in this video below:
Unfortunately, Tinker Hatfield was not able to give a specific release date for the shoe. We can expect it this year, but he did remind Back to the Future fans at Agenda Tradeshow in Long Beach that there is still a lot of 2015 left. So while there is not anything official, Hatfield's comments make it seem as though we won't see the shoe until much later in the year. It would certainly make sense for the company to release the shoe around the holiday season. We''l keep you posted as more news develops!