Rocket League Getting Halloween Treats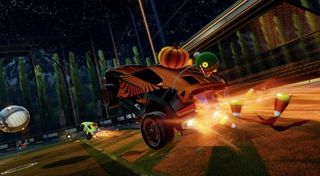 Psyonix wants to reward their fans with some fresh Halloween goodies. The developers announced that there are some free items that will be dropping throughout this Halloween season so gamers can outfit their car with new gear themed around the spookiest month of the year.
Over on the PlayStation Blog they rolled out the news that the Halloween items that are available for the game includes a "Calavera" antenna, a "Candy Corn" rocket trailer, "Carriage" wheels, a "Fuzzy Brute" antenna, a "Fuzzy Vampire" antenna and a "Pumpkin" topper.
Each of these items will drop randomly throughout a match whether you win or you lose and these items will keep dropping throughout the Halloween event all the way up until November 2nd, next month.
According to the post on the PlayStation Blog, these items will go away for an entire year until next Halloween. So if you really want the gear you'll want to get them as soon as possible before you have to wait until next year to get your hands on them.
One thing that gamers should also take note of is that all these items are free and you don't need to obligate yourself to purchasing any DLC to get the items. As mentioned on the PlayStation blog...
This is great news for Rocket League fans who are probably really interested in the event but worried that there might be DLC strings attached, which is sometimes the case with a lot of AAA titles.
But Psyonix really seems to understand how dedicated and beloved Rocket League is amongst most gamers and have resolved to giving gamers as much free content as possible to show how much they love their growing and established audience.
Rocket League blasted onto the scene back during the end of July to startling success, selling more than 5 million copies within a very short amount of time. Some have attributed this success to the PlayStation Plus giveaway but the game has already garnered more than 1.4 million purchases on Steam, according to Steam Spy, so it's not like the game's success is warranted entirely to just the free month on PlayStation Plus.
The Halloween event for Rocket League is going to get underway starting October 18th. You can get in on the action during the middle of the month, two weeks from now, and start outfitting your car stable with some new gear when the time comes.
You'll have two weeks to partake in the event before it ends on November 2nd, so get in while the getting in is good.
Following on the Halloween event Psyonix also wanted to remind gamers that Rocket League will be receiving some new DLC in the format of the Battle Cars expansion. You can look for the expansion to go live for the game next week on October 13th. For more info you can check out the game's official website.
Your Daily Blend of Entertainment News
Staff Writer at CinemaBlend.