Green Lantern: Rise Of The Manhunters Construct Screenshots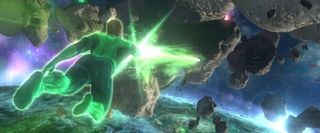 Warner Bros. Interactive Entertainment released some new screenshots today, featuring some additional constructs that can be utilized with the ring in Green Lantern: Rise of the Manhunters. Some of the constructs include giant fists, Gatling guns and even a fighter jet…yes, a fighter jet.
In addition to the objects that can be rendered with the ring, a few of the screenshots showcase the cooperative play that sees two-players working together as Hal Jordan and Sinestro as they battle evil foes and aim to restore peace to their little section of the galaxy.
It doesn't look too bad to be a movie-based game, but then again neither did Iron Man: The Game when we first seen videos and screenshots of that. Anyway, the game will be launching around the same time that E3 will be taking place…I'm not sure that's the best of times to launch a game but you can look for it on store shelves for most major gaming platforms come June 7th. For more info feel free to visit the Official Website.
Image 1 of 5
Image 2 of 5
Image 3 of 5
Image 4 of 5
Image 5 of 5
Staff Writer at CinemaBlend.
Your Daily Blend of Entertainment News
Thank you for signing up to CinemaBlend. You will receive a verification email shortly.
There was a problem. Please refresh the page and try again.