Guess Who's Coming To Dinner In Hell? 300 On The Xbox 360 and PS3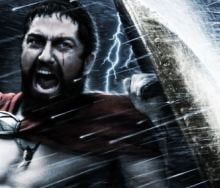 According to EGM's rumor monger, Quartermann, next-gen consoles (excluding the Wii) will be getting the Frank Miller 300 treatment on the PS3 and Xbox 360. This doesn't come as much of a surprise since the movie, which was pretty much plucked and pulled, panel by panel at certain scenes from the graphic novel, was a surprise hit. So much so that there's a game already available based on the famed Spartans, but that's for the PSP, so that doesn't really count.
Little is known about this new game other than…well, everything I told you is pretty much all there is out there; as that's pretty much all the Q-Mann had to say. But if I may have one request, please? How about whatever company develops it makes sure the game isn't all flashy and overblown like the movie, but rather, subtle and in 2D, like Odin Sphere. Odin Sphere proved that 2D was far from dead, so I don't see why pitting the Spartans against legions upon legions of Persians can't be done in the old-school dos dimensional format. In fact, if it should play like any game, it should be done like the overlooked Saturn classic, Dragon Force (please don't confuse with the crappy metal band of the same name).
Dragon Force had all the right elements for a strategy game done right, and it really pumped up the challenge later on in the game. Seriously, isn't 300 best suited for the strategy genre anyway? Piling up all those dead bodies to form a barrier was pretty clever in the movie, so just imagine how brutally graphic and fun that would be in a game.
Oh, and by the way, where's my Sin City game already? I've been wanting to bust some heads with Marv for ages now.
Lover of Avatar (The Last Airbender, not the blue people), video games, and anything 90s, he will talk your ear off about Godzilla, so don't get him started.
Your Daily Blend of Entertainment News
Thank you for signing up to CinemaBlend. You will receive a verification email shortly.
There was a problem. Please refresh the page and try again.