Half-Life, Counter-Strike Now On Linux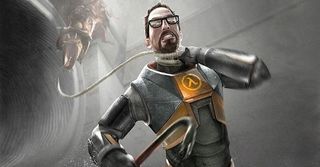 Two of Valve's classics are now available for Linux. Steam now offers Linux versions of Half-Life and Counter-Strike alongside the previously released PC and Mac editions.
Counter-Strike is a team-based multiplayer shooter. Players take on the role of either counter-terrorists or terrorists in objective-based matches. In one match type, the terrorists attempt to plant a bomb while the other team tries to stop them. In the other main match type, the terrorists must defend a group of hostages from a counter-terrorist rescue attempt. Each round, players earn money to purchase new equipment. Linux gamers will be able to play the 2000 original or Counter-Strike Source, the latter of which uses a more advanced engine.
I sincerely hope you all managed to play Half-Life sometime in the past 14 years. At first, it seems like a cliche: aliens invade a top-secret laboratory and the player must single-handedly defeat them. However, the game was superbly executed, with tightly scripted fights, diverse enemies and clever level design. It's considered one of the best shooters of all time, only overshadowed by its sequel in 2004.
Sadly, Half-Life 2 isn't available on Linux yet. I'd imagine Valve is working toward that. Again: I really hope you Linux gamers have managed to play that game on other platforms by now but if not, you're in for an (eventual) treat.
Steam for Linux entered beta in November of last year. A few dozen games on the digital games platform now support Linux. FTL: Faster Than Light, Trine 2, and Killing Floor are a few examples. Valve's Team Fortress 2 supports Linux as well. You only need to buy a game once to access it on all supported platforms.
Your Daily Blend of Entertainment News
Staff Writer at CinemaBlend.
Your Daily Blend of Entertainment News
Thank you for signing up to CinemaBlend. You will receive a verification email shortly.
There was a problem. Please refresh the page and try again.