Halo 4 Pre-Order Skins, Emblems Revealed Through Images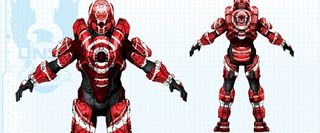 Several retailers will be competing for your Halo 4 pre-order money this year. Each major chain will offer unique customization options to players if you reserve a copy with them.
Retailers like Amazon, Best Buy, and Amazon will be offering you weapon and armor skins, as well as emblems. These skins and emblems can be color customized so you won't look exactly like every other pre-order customer out there. 343 Industries is careful to note that they're not giving away any actual items, so you won't be at a disadvantage if you don't pre-order.
The catch is that not every retailer has actually disclosed what specific skin/emblem they're offering yet. This post on the official Halo forums is tracking all of the announcements as they come in. I imagine all the question marks will be filled in by the end of E3 next week.
At any rate, you've still got plenty of time to peruse these options. Halo 4 won't hit stores until November 6th.
Image 1 of 13
Image 2 of 13
Image 3 of 13
Image 4 of 13
Image 5 of 13
Image 6 of 13
Image 7 of 13
Image 8 of 13
Image 9 of 13
Image 10 of 13
Image 11 of 13
Image 12 of 13
Image 13 of 13
Staff Writer at CinemaBlend.
Your Daily Blend of Entertainment News
Thank you for signing up to CinemaBlend. You will receive a verification email shortly.
There was a problem. Please refresh the page and try again.