Halo: Reach Demo Released, Full Game Now Cheaper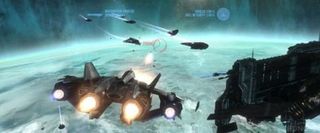 If you haven't tried out Halo: Reach yet, now's a good time to do so. Starting today you can try the game out for free and buy it for cheaper than normal.
The demo lets you play the "Long Night of Solace" campaign mission. You and Noble Team must fight your away across a beachhead. You'll also get to hop into a spaceship and dogfight with Covenant forces. Up to four players can play the campaign demo together via Xbox Live or System Link. You can also play with one friend via local split-screen.
Also included in the demo are the "Free for All Slayer" and "Headhunter" competitive multiplayer modes and the "Firefight" co-op mode. Unlike the campaign mission, these modes support online matchmaking in the demo. Purchasing the full version will unlock matchmaking for campaign missions and split-screen for multiplayer.
If you enjoy the game, you'll be able to buy it this week at a reduced rate. The digital Games on Demand version will be available for $39.99 in the US or £39.99/€39.99 in EMEA until May 30th.
Staff Writer at CinemaBlend.
Your Daily Blend of Entertainment News
Thank you for signing up to CinemaBlend. You will receive a verification email shortly.
There was a problem. Please refresh the page and try again.