Halo Reach: Remember Reach – Live Action Trailer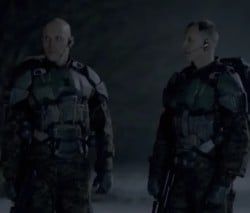 A new live-action promotional trailer for Halo: Reach was released, but by and far it's no where near as good as the 'We Are ODST' promo for Halo 3: ODST. Still, the acting isn't too bad and the whole mood of the video is to give gamers a sense of foreboding dread.
Still, there have been worse trailers out there and this one at least stays consistent with its message. It would have been slightly cooler if something a little more dynamic was present but I guess you have to take whatever you're given.
If I must say so myself, it feels like Halo: Reach's marketing has been a bit underwhelming, but maybe the PR just got tired after all the other games that came before it. Anyway, you can check out the new live-action trailer below or visit the Official Website to learn more about Halo: Reach.
Staff Writer at CinemaBlend.
Your Daily Blend of Entertainment News
Thank you for signing up to CinemaBlend. You will receive a verification email shortly.
There was a problem. Please refresh the page and try again.