Halo: Spartan Assault Domains Registered By Microsoft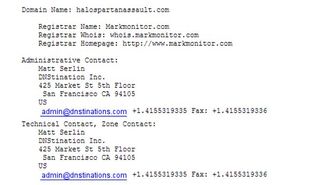 Did Microsoft just give away the title of their next Halo game? The company has registered several domain names related to an unknown product called Halo: Spartan Assault.
As Fusible notes, Microsoft snatched up HaloSpartanAssault.com, Halo-SpartanAssault.com, HaloSpartanAssault.net, SpartanAssault.net, and Halo-SpartanAssault.net. It seems like they're pretty firm on this title, then. The registrations were made through MarkMonitor, a company that has handled domains for Microsoft extensively in the past.
At the Xbox One announcement event, Microsoft revealed that Steven Spielberg is producing a Halo TV series. They didn't mention a title at the time. Perhaps it's called Spartan Assault?
There's also a chance that this title will be used for the next Halo game. Microsoft did just announce a new console after all, and they're almost certainly working on a Halo game for it. I would've expected the next entry in the series to be Halo 5, in order to continue the Reclaimer Trilogy, but perhaps they're planning a spin-off title.
This mystery could be solved at E3. Microsoft will hold their E3 presser on June 10th. They're promising to announce many Xbox One games during the event so if Spartan Assault fits that description, we'll certainly hear more about it.
Your Daily Blend of Entertainment News
Staff Writer at CinemaBlend.