Heavy Fire: Afghanistan Arrives In November For PC, PS3, Wii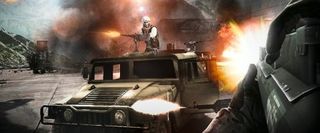 Mastiff Entertainment's Heavy Fire: Afghanistan is gearing up for release on the PS3, PC and Wii starting next month. The game is a fast-paced, modern-day, military shooter where gamers run and gun through some intense levels, online play and four-player cooperative modes.
Danny Hammett, executive vice president and partner at Mastiff commented in the press release, saying…
So basically, it's a poor man's Call of Duty: Modern Warfare at a fraction of the cost? Well call me Dilly and shoot my pinky, I think they have a real winner on their hands. With the additional four-player cooperative modes and 24 intense missions and 60 awards, ranks and equipment upgrades.
If you can't afford to lay down $60 bucks for Call of Duty: Modern Warfare 3 but still want a budget-priced action packed experience, you can pick up Heavy Fire: Afghanistan in early November for the PS3, PC and Wii. Need more info on the game? Feel free to visit the Official Facebook Page.
Staff Writer at CinemaBlend.
Your Daily Blend of Entertainment News
Thank you for signing up to CinemaBlend. You will receive a verification email shortly.
There was a problem. Please refresh the page and try again.