Heavy Rain Cost $40 Million To Make, Made $100 Million In Sales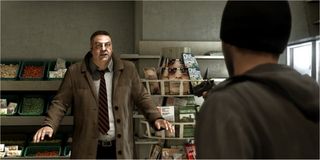 We constantly hear about games that don't break even, barely break even or didn't sell fast enough to turn a profit for the publisher, developer or sometimes the distributor. That was not the case with Quantic Dream's Heavy Rain. The creative niche title cost just less than half of a $100 million to produce and it made back more than double its own production costs.
GameIndustry.biz has a rundown of part of the keynote speech at the Digital Dragons summit from the head honcho at Quantic Dream, Guillaume de Fondaumiere, who noted the costs, expenses and profits of Heavy Rain using a crude but notable example...
It still amazes me that distribution and marketing make up for half of the game's total production costs. I know most people will say "But the game won't sell if it isn't marketed" but we still have a lot of examples of games that have meager marketing but huge cult followings, such as, of course, DayZ, DoTA 2, League of Legends, Journey and Natural Selection 2 to name a few. It's also interesting to note that each of those games aim to do something unique within the game space.
I think de Foundaumiere has an excellent point to stand on, and it's that gamer fatigue has settled in with all the ho-hum-drum shooters that have been flooding the market and core gamers are likely to flock to something that's both fun and innovative.
At least Sony managed to turn a profit on the game, though. It sure beats Square Enix selling 3.4 million copies of Tomb Raider in three weeks and claiming it didn't meet expectations. $204 million in revenue over the course of three weeks and the company claims it didn't meet expectations. Now that's an epic fail.
Quantic Dream is currently working on the upcoming Beyond: Two Souls.
Staff Writer at CinemaBlend.
Your Daily Blend of Entertainment News
Thank you for signing up to CinemaBlend. You will receive a verification email shortly.
There was a problem. Please refresh the page and try again.