Hyper Light Drifter New Gameplay, Co-op Features Detailed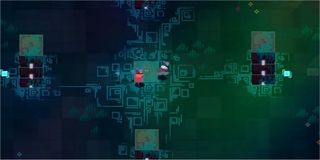 Hyper Light Drifter is shaping up to be a really exceptional game. It seems like the words "awesome" and "amazing" have been thrown around lately but it really does apply to games like Heart Machine's Kickstarter darling.
Polygon managed to get in some time with the developers of the upcoming title, Alex Preston and Teddy Diefenbach, and if you can rip yourself away from Preston's hypnotic blue finger-paint, you'll realize that this game is shaping up to be one of the best of the year.
The core of the gameplay is based entirely around classic isometric RPGs such as A Link to the Past or Crusader: No Remorse, while also blending in new-school combo-based gameplay we've become accustomed to from titles like God of War and Castlevania. The real highlight was the drop-in and drop-out co-op that allows a second player to locally pick up the controller and start playing. It's a nice addition to a genre that definitely needs the feature.
The video in the Polygon link – unfortunately it can't be embedded because Polygon wants some fresh hits – showcases a lot of how the gameplay works, and it's a heck of a lot faster and more intuitive than I originally thought, merely based on the previous Kickstarter videos.
I always imagined that the gameplay would be slower paced and more in line with something from Legend of Zelda, but I like that there's a layer of dynamics to the combat system. It's far more flashy and stylized than what was let on, and that's a pleasant surprise that many gamers just might enjoy.
Diefenbach and Preston also talk up the game's "Prestige" feature as well, which is bound to appeal greatly to those who like grinding in RPGs. You can basically level up certain items and skills by increasing their core functionality. They also mention the item hunting and loot grinding, which is also a fairly appealing option to throw into a game like this. Replay sounds like it's going to be well intact.
Even though the interview took place in what looks like the ultimate hipster's tree-hugging pad, there was a lot of useful information about the game that came spilling out of those two developers from Heart Machine.
What's more is that they're aiming to put the game on as many platforms as possible, and we finally learn how it became possible, mostly because of Game Maker. We also learn that it's not as costly anymore to port to other platforms as it was during seventh gen, which – as the duo on the hipster couch admit – could cost up to $100,000 due to registration, certification, royalty and porting fees.
Beyond that, it's just good to know that the game is coming along quite well, and I can't wait to see how the game turns out on the Wii U. We also know that even though Hyper Light Drifter is signed up for the ID@Xbox program and is part of what will be the first-wave of indie games launching for Microsoft's console, Heart Machine makes it known that the game won't be complete before the upcoming PAX East in April. So that at least gives us an idea of when it won't be on the Xbox One.
Your Daily Blend of Entertainment News
Staff Writer at CinemaBlend.