Indiana Jones and the Staff of Kings Screenshots Aren't Actually From The Game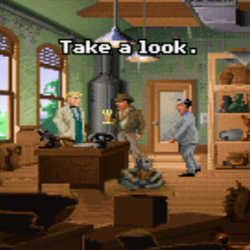 LucasArts has sent out seven new screenshots to promote Indiana Jones and the Staff of Kings but none of them are actually from Staff of Kings. They're screenshots of Indiana Jones and the Fate of Atlantis, the retro point-and-click adventure game included on the game disc.
Fate of Atlantis was originally released in 1992, back when LucasArts was keen on the adventure genre. It uses the SCUMM Engine, also seen in the first three Monkey Island games and Maniac Mansion (among other titles). The full game is an unlockable on the Wii version of Staff Of Kings.
Staff of Kings will also be released for the PSP, PS2, and DS. None of these other versions will have Atlantis included, though. It's a shame - the stylus is great for pointin' and clickin'. All versions will be released on June 9th.
Image 1 of 7
Image 2 of 7
Image 3 of 7
Image 4 of 7
Image 5 of 7
Image 6 of 7
Image 7 of 7
Staff Writer at CinemaBlend.
Your Daily Blend of Entertainment News
Thank you for signing up to CinemaBlend. You will receive a verification email shortly.
There was a problem. Please refresh the page and try again.