JetGetters Hits Kickstarter Goal, Still Needs Help For Wii U, XB1, PS4 Ports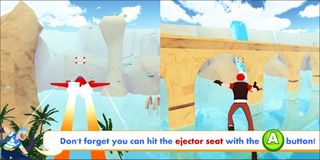 TinyBuild Games, the same distorted minds that brought you the gleefully psychotic No Time To Explain, have hit their Kickstarter goal for their Just Cause meets SkyDrift hybrid, called JetGetters. But the adventure is just beginning.
After making an update on their official Kickstarter page that they hit their goal, and that they felt confident in the game's mechanical feel and controls, it became obvious that there's still another hurdle for the team to overcome: console ports.
While the initial goal of $50,000 has been met for JetGetters, the additional stretch goals are as follows:
Stretch Goal $60k = Xbox One version
Stretch Goal $70k = PS4 version
Stretch Goal $80k = Wii U
Okay, so you're probably wondering why the Wii U is the most expensive. Well, it's because TinyBuild already has an Xbox One devkit. Nice. So it's the cheapest, just $10,000. The PS4 version is the next expensive and that's probably because they would have to get in bed with Sony to get some free tools. Not too much of a problem. But what's up with the Wii U?
Well, they explain on the Kickstarter page that out of the three, the Wii U is the most complex. Remember the secret sauce? Well, yeah, that's why.
Of course, even though JetGetters wouldn't really need the secret sauce, it's still a learning curve compared to the x86 architecture of the new and yet old technology of the Xbox One and PS4.
In addition to this, you'll probably need some convincing that the game is still worth supporting to hit those stretch goals and bring the title to Nintendo, Sony and Microsoft's consoles. Well, here is your incentive:
Mmm, boy. That's some delicious looking gameplay right there. I see lots of potential, and the music and visuals pop in all the right places.
However, what if I told you that the pot could be sweetened? That's right, TinyBuild let loose a free gameplay demo that eager (or skeptical) gamers can play-test on a Windows PC, right now.
he demo sports some basic gameplay as well as a local, two-player split-screen option. This is ideal for anyone with two spare Xbox 360 controllers.
If you're keen on testing out the gameplay (and providing some feedback) you can grab the 200mb demo right now and give it a whirl. It should go without saying that this is an extremely early build of what's to come, and everything is just there as a starting point for what the team will eventually create.
If you want to see this game arrive on the new generation home consoles (especially the one with all the secret sauce) be sure to dedicate some funds to the cause by visiting the official Kickstarter page. There's only three days left, so hurry!
Staff Writer at CinemaBlend.
Your Daily Blend of Entertainment News
Thank you for signing up to CinemaBlend. You will receive a verification email shortly.
There was a problem. Please refresh the page and try again.