JetGetters Kickstarter Canceled Due To Angel Investors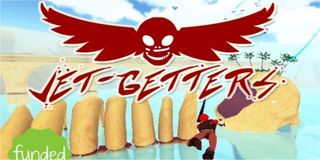 There's some good and bad news: The good news is that JetGetters has been fully funded. The bad news is that since the Kickstarter for the game has been canceled, there's no word on if the game might become a platform exclusive.
Gameranx picked up the news, where they wrote...
The thing that's so crazy is that tinyBuild canceled their Kickstarter right after it had become fully funded and they were prepping to use their final days to push toward the stretch goals of getting the game on home consoles.
There's a further explanation over on the Kickstarter page for backers, in which case tinyBuild makes it known that they are refunding any of the money pledged toward the project and that they will move forward under the financial support of their new investors. In a way, this is like one of those positive Kickstarter stories where they didn't even need your money to make the game happen. Am I right?
Gameranx also notes that the developers mentioned that they hit a snag in development and that the game may not have arrived as promised, but I'm sure a delay is not something gamers would have been too angry with.
The article also goes on to say that the reason there are reservations about the investors stepping in is because if it's a company like Electronic Arts or Ubisoft (though I highly doubt it's either of those two) it would be highly unlikely that a game like JetGetters would see a release across all platforms. As we all know, there's still some bad blood between both EA and Nintendo.
It would be a real shame if a larger publisher stepped in and then decided to remove availability for the all the home consoles, or just specific ones.
However, it's also possible that a smaller tier publisher like Midnight City could have stepped in to help tinyBuild get to the finish line, but from this position we'll never know until it's time to know.
In the meantime, you can drench the sorrows of your expectations within the span of a minute and fifteen seconds of solace, courtesy of the prototype video above.
For more information about JetGetters or tinyBuild Games, feel free to learn more about the studio by paying a visit to their official website. We'll continue to keep you posted on any additional information on the game as soon as it becomes available.
Your Daily Blend of Entertainment News
Staff Writer at CinemaBlend.