Jetpack Joyride Goes Free On PS3 And Vita Dec. 31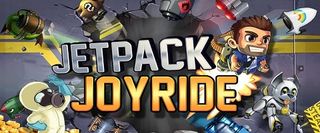 Now that Jetpack Joyride has made its way onto the Sony Entertainment Network, publisher Halfbrick and developer Big Ant have found themselves in a festive, giving mood. They will offer the game (available for both the PlayStation 3 and PlayStation Vita) free of charge starting Monday, Dec. 31.
Now, don't get me wrong, anyone wanting to give away their awesome game for zero dollars is A-OK in my book. But I can't help but feel a little bit like a sucker in this instance. You see, Jetpack Joyride just hit the Sony Entertainment Network two Tuesdays ago but, at the time, it wasn't compatible with the PlayStation Vita. So, I held off on buying it. This past Tuesday, however, the game released on the Vita and I plopped down my four bucks instantly. Just a few days later, and now I'm hearing that I'll be missing out on a free download. Ah well. I suppose I should take comfort in knowing I supported the developer with my hard-earned cash and, yeah, Jetpack Joyride is certainly worth the four bucks.
As for those of you who did not even realize the game was available for your PlayStation consoles, just hold off for a week and a half more and get ready to go on Barry Steakfries' whirlwind escape from a dangerous factory at no charge.
"Jetpack Joyride has come a long way in 2012, and we're thrilled to bring it to PS3 and Vita," said Halfbrick CMO, Phil Larsen. "With the expertise of Big Ant and the huge player base on the Sony Entertainment Network, Barry Steakfries is reaching bigger heights and caps off the year in fine form."
The PS3 version of the game will be in HD while both versions will feature leaderboards and unlockable in-game trophies. You can also expect all of the game's latest content, from levels and gear to new vehicles and challenges. Get all of that jetpacking goodness at no charge starting Dec. 31.
Staff Writer for CinemaBlend.
Your Daily Blend of Entertainment News
Thank you for signing up to CinemaBlend. You will receive a verification email shortly.
There was a problem. Please refresh the page and try again.