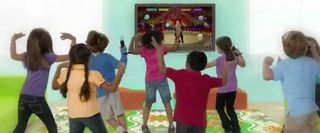 Ubisoft will help the next generation of rump-shakers learn their craft. Today they announced Just Dance Kids 2, a version of their popular dancing game specifically targeted toward young'ns.
Just Dance Kids 2 will have a soundtrack of 40 songs that your kids love and you hate. The track list includes present day hits like "Love Me" and "Whip My Hair" as well as more classic songs like "Head, Shoulders, Knees and Toes" and "The Hokey Pokey." A number of songs from popular kid television shows and films are included as well.
All three versions of JDK2 will have exclusive features. The Kinect support for the Xbox 360 version lets kids create music videos or dance routines to challenge their friends. The PS3 version lets players take photos of themselves using the PlayStationEye. The Wii version, meanwhile, has a brand new multiplayer mode called Balloon Pop, presumably where kids flail around trying to break virtual balloons.
All three versions of the game have a feature called Nonstop Shuffle. It allows you to play the game for 15, 30, 60 or 120 minutes without having to set anything up. It's ideal for parents who want to just set up the game for their kids and then relocate to a room in their house where they can't hear "I Am A Gummy Bear."
JDK2 will be released on October 25th in North America.
Your Daily Blend of Entertainment News
Staff Writer at CinemaBlend.