KillZone 2 Vs. KillZone 1: Gameplay Retrospective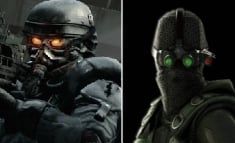 Guerrilla Games is still hard at work in finishing up the latest triple-A shooter for the PS3, KillZone 2. The game is due out in February of 2009. But considering that KZ2 is so close to its release and it has built up such a huge following, we thought it would be interesting to give gamers a little look back on what KillZone was, and a look at what KillZone 2 will be.
The Weekly Battle Bout here at Blend Games is returning with this special comparison. You get to see the original KillZone in action, as well as KillZone 2, and we'll break down some of the obvious changes you can expect when the game releases in two months.
The original KillZone was actually a solid game, despite being an average shooter. As you'll see in the trailer below, much of the highlights of the original KillZone has carried over into KillZone 2. Those nicely modeled guns from the original have been given a retouch and now look freaking awesome in the sequel. KZ2 also features character models that have immeasurable amounts of detail and the environments are even darker and more science-fiction laden than the original.
In regards to the character reactions...it would have been nice to have seen more realistic physics used instead of dynamic animations. Both KillZone 1 and 2 suffer from the over-reliance on animations based on hit-detection. But as you can see, KZ2 uses those animations in a much more seamless fashion when enemies are shot in specific places.
If there's one thing that must be accentuated as an absolute plus in Guerrilla's shooter franchise, is that both games carry a very definitive battle-worn atmosphere. Unlike some shooter games (i.e., Halo, Doom or Half-Life) the KillZone games offer up FPS action in environments that look like they're being fought over fevorously.
The upside of the comparison is that much of what worked in KillZone 1 is returning in KillZone 2, but made bigger and better. Well, in some cases the shootouts are not necessarily bigger, so much as they're more refined and offer a more linear and controlled action experience. My major concern with the sequel, though, is that there's sometimes a constant intrusion of repetitive shooting sequences and stale enemy encounters. Nevertheless, this isn't a review so it's not like you have to really take it to heart.
You can check out the videos of both games below. KillZone 2 is scheduled for release in late February, exclusively on the PS3. And remember to stay tuned in with Blend Games for more news and updates on all things gaming.
Your Daily Blend of Entertainment News
Staff Writer at CinemaBlend.