King of Fighters Is Multiplatform, 360 Owners Rejoice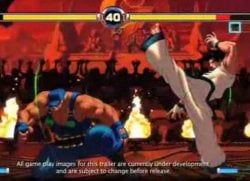 Poor William. Yesterday, he wished to stoke the flames of the console war by claiming that King of Fighters XII would not be appearing on the Xbox 360. Thankfully, he was wrong.
Today, Ignition Entertainment issued a press release claiming that King of Fighters XII would be released on both the PS3 and Xbox 360 in July. If you want to check out some footage of KoF12 in action, check it out here. Copies of King of Fighters '98: Ultimate Match for the PS2 also contain footage and information on the new game.
Be sure to stay tuned to Blend Games for more news on KoF XII and other games.
Your Daily Blend of Entertainment News
Thank you for signing up to CinemaBlend. You will receive a verification email shortly.
There was a problem. Please refresh the page and try again.