King Of Wushu Coming To PS4 In North America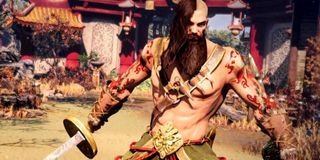 PS4 games here in the West will soon have a new MOBA to play. Snail Games plans to bring King of Wushu to North America in the near future.
King of Wushu is set during the Ming Dynasty of China. The game plays fast and loose with history, though. The characters are armed with a range of offensive and defensive magic spells. Though some wield conventional weapons like swords and spears, others use fans or even a portable cannon.
The general gameplay of Wushu should sound familiar to veterans of other MOBAs like Dota 2 or League of Legends. Players choose one of the game's 15 champions and participate in 5v5 online battles. Each side is also supported by armies of A.I. minions that players must fight through in order to reach their enemy's base and destroy it.
What sets King of Wushu apart from many MOBAs, though, is that the game doesn't have the usual top-down camera. Instead, it utilizes a third-person perspective so it looks more like Darksiders than Heroes of the Storm. Snail Games built the game using CryEngine 3, the same technology behind the past two Crysis games, Ryse: Son of Rome and many others.
King of Wushu was one of the launch titles for PS4 in China earlier this year. The game is also coming to Xbox One and PC but the PS4 is getting the game first here in North America as well. No release dates are known yet.
The CryEngine website says that Snail Games is planning cross-platform play as well so you can team up with or fight players who own different versions. That should make finding a match a lot easier.
Although MOBAs are hugely popular on PC, they're still a very niche genre on console. That trend has continued in the latest generation of hardware. The only MOBA on PS4 here in the States right now is Awesomenauts while Xbox One owners' sole option is Smite. I suspect we'll see others besides King of Wushu come to consoles in time. While there aren't as many MOBA devotees on consoles right now, the upside is that console MOBAs don't have to directly compete with 800-pound gorillas like LoL or Dota 2.
Image 1 of 7
Your Daily Blend of Entertainment News
Staff Writer at CinemaBlend.