L.A. Noire Dev Says Rockstar Left Just Enough Rope To Hang Himself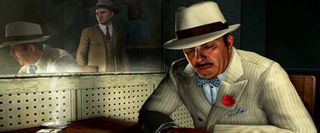 There was a lot of public backlash about a fallout between Rockstar Games and L.A. Noire developer, Team Bondi during the production of the aforementioned game. A few more nuggets of information has spilled out regarding the degraded relationship between Rockstar and Team Bondi in a new interview.
In an interview with UK gaming magazine, GamesTM, Team Bondi's studio head, Brendan McNamara, revealed this tidbit about working with Rockstar on L.A. Noire and designing the characters...
Ouch. Team Bondi sold off assets not too long after the release of L.A. Noire, but McNamara and crew are going back to work with third-party studio Detph Analysis' patented MotionScan face technology thanks to Mad Max creator, George Miller. The iconic director was so impressed with the facial technology and work that Team Bondi put into L.A. Noire, he decided to jump on board with the team, despite all the hoopla surrounding the explosive head-butting that went on between Rockstar and Bondi.
McNamara is now heading up production on his new IP, Whore of the Orient and will also be working on an adapted version of Miller's post-apocalyptic vehicle romp, Mad Max.
It's probably safe to say that Rockstar won't be publishing either of McNamara's upcoming games.
Your Daily Blend of Entertainment News
Staff Writer at CinemaBlend.
Your Daily Blend of Entertainment News
Thank you for signing up to CinemaBlend. You will receive a verification email shortly.
There was a problem. Please refresh the page and try again.