Last Of Us 2 PS4 Image Debunked By Naughty Dog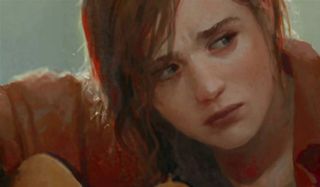 Naughty Dog artist Marek Okon gave the Internet a heart attack yesterday by posting a possible teaser image for Last Of Us 2. Don't get too excited, though.
"Let me tease you something... Its coming," Okon said on a Facebook post accompanied by a picture of Ellie holding a guitar. Ellie looked noticeably older than she was in the first Last Of Us, leading many people to speculate that this was a clue at a PS4 sequel. Would they announce this month? Would they announce it at E3? Oh man, oh man, oh man.
Unfortunately, everyone got excited for nothing. After the image made the rounds in the usual rumor mills, Okon revealed that it's not official artwork. He's just making it for funsies.
"Lol. This is how you know you are teasing your stuff the right way So before its gonna get blown out of proportions - its gonna be strictly personal image. Is it about TLOU2? Not really... Maybe... Its classified. But seriously its gonna be just a fan art."
If I ever need someone to tease a game that doesn't exist, I'll be sure to give Okon a call. The man knows what he's doing on that front. Great artist, too.
Naughty Dog has yet to announce Last Of Us 2. In February, creative director Neil Druckmann said that the studio was considering it, though.
"If you're asking about a sequel... right now I'd say it's 50/50," he said at the time.
Druckmann added that Last Of Us 2 might not star Joel or Ellie. He said that he was "super proud" of the ending for the first game. He may decide that their story's been fully told, then, and move onto another cast of characters. That would also happen if Troy Baker and Ashley Johnson, the voice actors for Last Of Us, couldn't come back for another game.
"I'd probably reconsider the story at that point. They are Joel and Ellie to me."
Naughty Dog is currently finishing up a PS4 version of the first game. Last Of Us: Remastered includes all of the game's DLC as well as exclusive audio commentary. The remake also updates the game's visuals.
Last Of Us is expected to hit PS4 this summer. Naughty Dog might not be able to jump into a sequel right after finishing the remake, though. Uncharted 4 still needs to be finished. Druckmann and Last of Us director Bruce Straley allegedly took over the project following the departure of long-time Uncharted director Amy Hennig. Uncharted 4 might be done sooner than we expect, though, considering the game's been in development since 2011.
Your Daily Blend of Entertainment News
Staff Writer at CinemaBlend.