Last Of Us DLC News Coming This Week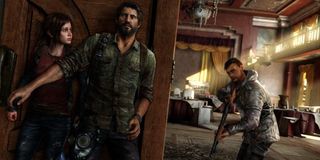 Naughty Dog is almost ready to talk about their plans for Last Of Us' downloadable content. Game director Bruce Straley said over Twitter that an official announcement is just days away.
The developers have at least three DLC packs planned for Last Of Us. Two will focus on game's multiplayer modes. The third is said to introduce more single-player content.
"The journey and cast of characters in The Last of Us lends itself to thorough narrative exploration and we've got more of the story to tell," Naughty Dog said earlier in the year of this DLC. In other words, don't expect some simple arena challenge. This will be the first time that Naughty Dog offers a single-player add-on for one of their games.
Last Of Us is set after a fungal outbreak has wiped out much of the world's population. Gun runner Joel becomes the unlikely guardian of teenager Ellie. He must help her escape military quarantine and reach a rebel group known as the Fireflies. Their journey will take them through a ravaged United States inhabited by bandits and infected. The constant struggle for survival beyond the quarantine is further depicted in the game's multiplayer mode, in which Fireflies and bandits battle for supplies.
The world of Last Of Us certainly offers up a lot of potential stories for DLC. Will this new chapter put us in the shoes of a new character? Or is it a "lost chapter" from Joel and Ellie's adventure? Naughty Dog has no shortage of options and I can't wait to find out what their plan is.
Players can get access to all three Last of Us DLC packs by purchasing the $19.99 Season Pass. The add-ons can also be purchased individually, though buying in bulk will apparently save you 30% - assuming you want both the single-player and multiplayer DLC, that is.
Though Naughty Dog hasn't released any premium DLC yet, they've been patching the game since its summer debut. Patch 1.03, released in late August, introduced a new Interrogation mode for multiplayer.
Staff Writer at CinemaBlend.
Your Daily Blend of Entertainment News
Thank you for signing up to CinemaBlend. You will receive a verification email shortly.
There was a problem. Please refresh the page and try again.