The Last Of Us: Tips For Surviving Multiplayer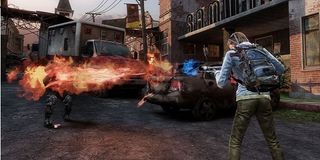 Anyone who has joined Ellie and Joel on their quest across a post-apocalyptic United States in The Last of Us knows that, in the world of the single player campaign, only the strong survive. That goes double for the multiplayer, which pits two teams against one another for control of resources and territory. If you're having trouble staying alive, now there's a handy list of helpful tips to give you that little extra edge.
For those who haven't played Naughty Dog's latest epic adventure, The Last of Us, you have nothing to fear from spoilers in the paragraphs ahead. We're focusing on multiplayer today, so all of those juicy story tid-bits will remain under wraps. Also, shame on you for not playing. It's a damn good game with one of the best stories you'll find in the world of vidjyagames.
But enough of that. We're here to ponder the multiplayer today and, over on the PlayStation Blog, Social Media Manager Sid Shuman has collected 24 survival tips to help keep your heart ticking in the game's online mode. Some of you might even be surprised to hear that a game like The Last of Us even has a multiplayer mode, and you wouldn't be faulted for assuming it was tacked on just to add another bullet point on the back of the box. I could try to assure you that the multiplayer is absolutely worth your time and attention, or I could just show you a badass video that will do all of the talking for me. Warning for those who get easily upset by violence: People are about to die in some very violent manners.
As you probably gathered in that trailer, the struggle for survival in the PS3's latest masterpiece is every bit as desperate as in the game proper. And some of the folks who play online have utterly mastered the game's mechanics, nearly turning the act of killing their opponents into a blood-soaked art form.
There's no shame in heeding some helpful advice, which is why that PS Blog post comes in so handy.
"The Last of Us differs from other multiplayer games in many ways," said Shuman. "It's stealthy, ammo and resources are scarce, and teamwork is absolutely vital. What's more, your total kills take a backseat to Parts—a currency that you can spend on weapon upgrades, ammo, power weapons and armor."
Shuman goes on to provide 12 of his own helpful tips for the multiplayer game, including stuff like upgrade your melee weapon ASAP, which skills to focus on early in your campaign, ways to think around corners and why working with your fellow players is so important.
After that, Shuman goes on to list a nice collection of the most helpful tips pulled from Twitter. And if you still aren't satisfied, then you'll definitely want to check out the comments section, where readers have chimed in on the subject.
So there you have it. Read up, steady your nerves, and get ready to take The Last of Us online.
Your Daily Blend of Entertainment News
Staff Writer for CinemaBlend.