Leaked Trailer For The Division Shows Off Stunning Gameplay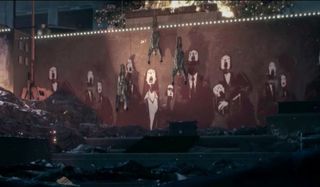 Update: We did finally receive the official English trailer for Tom Clancy's The Division, and it has been switched out below.
When the first trailer for the Tom Clancy's The Division released, the blatant emotional triggers within the trailer left many people staggering. The announcement trailer was unveiled at the Electronic Entertainment Expo in 2013, so fans have been waiting three years for its arrival. And it's finally coming.
The Italian version of the trailer first leaked and Ubisoft finally gave in and translated it to English and released it yesterday. But today, the trailer mysteriously disappeared. Luckily, we still have the untranslated, Italian version of the leaked trailer and it shows off what we can expect from Tom Clancy's The Division.
The trailer shows off a stunning post-apocalyptic world that is laced with brutality and bloodshed. The gameplay looks so good, it's easily confused for a cinematic scene. The user interface feels very fluid and user-friendly and the weapons appear merciless—I mean did you see that guy light up on fire? It looks like you'll be able to take hold of high-end riot shields and gun turrets to use against enemies, but dangerous enemies with flamethrowers can set you on fire.
If you aren't familiar with the story in Tom Clancy's The Division, it's a narrative that takes place after the world comes to an end, but not an end like you might think. A deadly virus swept the world and took out most of the population and once that happened, people stopped banding together to fight and instead, started turning against each other. A nation divided. No, there aren't any zombies or flesh-eating viruses leading dead people to feast on the living. Sorry to burst your bubble. The player will fight enemy factions in a desolate and ravaged New York City, while leveling up and hunting for loot. You can travel into settings like the underground metro and decrepit train station, but if you're tired of running around and watching your back, the trailer gives insight into some of the safe zones. Here you can meet with NPCs or your friends, take a breather and chill out or stock up on resources before you head back out.
The New York City setting emanates an eerie vibe with the leftover Christmas decorations on snowy streets from a time when sickness and death weren't present. And the scariest thing about Tom Clancy's The Division is it's very possible a situation like this could happen sometime in the future.
Tom Clancy's The Division is slated for a March 8 release date on the PS4, Xbox One and PC.
Your Daily Blend of Entertainment News
Thank you for signing up to CinemaBlend. You will receive a verification email shortly.
There was a problem. Please refresh the page and try again.