Liam Neeson's Son Didn't Like His Fallout 3 Role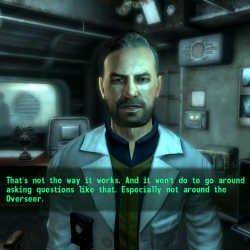 Film star Liam Neeson (best known to you young bastards as "Qui Gon Jinn") was given a lot of praise by critics and fans alike for his voicework in post-apocalyptic role-playing game Fallout 3, in which he played the main character's father. There was one person who wasn't so thrilled with the performance, though: his son.
"My kid hadn't heard of it, and i eventually got him one, and he played it, and he said 'Dad! It's you!'," Neeson recalled in an interview with Cinema Blend about his upcoming movie Taken. "He was so pissed off. No escape! And I said, 'Yes son. I'm still a Jedi.'"
Neeson's voicework was nominated for a 2008 Spike Video Game Award in the "Big Name In The Game - Male" category. The Spawn of Neeson might be pleased to hear that he lost the award to Kiefer Sutherland, who provided the voice of Roebuck in Call of Duty: World At War.
Your Daily Blend of Entertainment News
Staff Writer at CinemaBlend.