Limited Edition Red Skulls Gears Of War 3 Controller Announced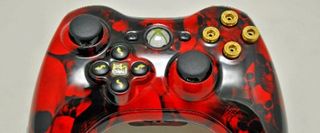 Evil Controllers announced today that a brand new Evil Controller is on the way for the Xbox 360 exclusive, Gears of War 3. The Red Skulls controller will contain the patented Evil D-Pad, LEDs and a smoking red livery. The controller will also arrive just in time for the release of Gears of War 3.
As stated in the press release…
The standard design of the Evil Red Skulls Controller contains gold cogs for the face buttons, the patented segregated D-buttons so you don't have to worry about accidentally moving diagonally when trying to go up, down, left or right with the D-pad, as well as that awesome red skulls painted scheme.
The controller for Gears of War 3 is just one of the many new patented controllers that Evil Controllers will be unleashing in the coming months for additional Xbox 360 properties, including Halo 4 and Call of Duty: Modern Warfare 3.
You can scope out all the details, pricing and customization options for the Red Skulls controller over at the Official Evil Controllers Website. (opens in new tab) The Red Skull Evil Controller will be available at the starting price of $79.99 beginning September 12th. Currently there are pre-order bonuses available at the website as well, so be sure to check out the info thoroughly so you walk away with the most kick-butt options available.
Staff Writer at CinemaBlend.
Your Daily Blend of Entertainment News
Thank you for signing up to CinemaBlend. You will receive a verification email shortly.
There was a problem. Please refresh the page and try again.