LittleBigPlanet 2 Move Bundle, Special Edition On The Way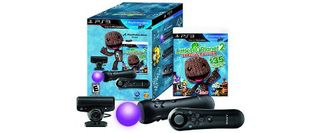 Sony will be re-releasing LittleBigPlanet 2 to stores this holiday season. They're planning to release a Special Edition of the user-generated content platformer and include the game in a Move bundle.
The LittleBigPlanet 2: Special Edition will arrive on November 15th. It includes the base game as well as the Move support added post-launch. Over $35 of additional content is included as well:
LittleBigPlanet 2 Move Pack: Rise of the Cakeling - "A whole new adventure in which a rogue cake threatens doom and destruction, and you Sackfolk must once again attempt to restore peace to Craftworld, featuring 5 new levels + 7 mini-levels, and tons of goodies. Plus, all of the cool new Move tools to let you Create and Share your own 'Move' games for the rest of the community to Play! This suite of new creative tools give you the power to create your own Move games, record fluid motions, and paint your own stickers, while using a boatload of new stickers, materials, decorations, costumes, music, sound and sequencer objects that will vastly broaden your creative palette, and make your Popit burst at the seams."
Disney/Pixar's Toy Story Level Pack– five new levels + two mini-levels + one Alien costume and more goodies.
Disney/Pixar's Toy Story Costume Pack – Buzz Lightyear, Slinky Dog, Hamm, and Rex costumes for Sackboy
Pets Costumes — The full line of costumes (12) from the Cats Costume Pack, Dogs Costume Pack, and Even More Animals Costume Pack
The LittleBigPlanet 2 PlayStation Move Bundle will arrive on the 15th as well. It gives you a copy of LBP2: SE along with everything you need to play it with Move:
LittleBigPlanet 2: Special Edition
PlayStation Move Motion Controller
PlayStation Move Navigation Controller
PlayStation Eye Camera
The Move bundle will cost $129.99. Buying the Special Edition of LBP2 by itself will set you back $59.99.
Staff Writer at CinemaBlend.
Your Daily Blend of Entertainment News
Thank you for signing up to CinemaBlend. You will receive a verification email shortly.
There was a problem. Please refresh the page and try again.