LittleBigPlanet History DLC Trailer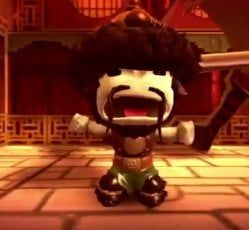 Sackboy, Sackgirl and the creative crew at Media Molecule are gearing up for the new downloadable content for LittleBigPlanet and it's called History. A new trailer was released for the content and it gives a slight overview of the new building blocks, levels and accessories to outfit the characters with.
The new history kit will be available for $3.99 and contain a wide assortment of new content for players to play around with. As shown in the following trailer, the kit will contain various sets from different eras, allowing players to build, mix and match all kinds of crazy tiles, set pieces and character costumes together. The new DLC for LBP is due out exclusively for the PlayStation 3 on August 13th.
You can check out the new History trailer for the game below or visit the Official Website for more information. Need more gaming news, info, updates and media? Be sure to stay tuned in with Blend Games.
Staff Writer at CinemaBlend.
Your Daily Blend of Entertainment News
Thank you for signing up to CinemaBlend. You will receive a verification email shortly.
There was a problem. Please refresh the page and try again.