Lode Runner XBLA To Feature Level Sharing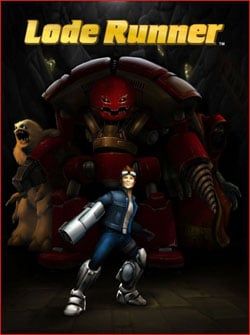 The name of Lode Runner might not be as well-known as the likes of Bomberman when it comes to the realm of classic multiplayer games, but it's without a doubt just as good in terms of quality. Battle Lode Runner was one of my all-time favorites. There's something innately hilarious about digging a pit in a square of ground that some dude is already standing on, sending him to a death by block-respawn. Luckily for me and the hordes of Lode Runner faithful, the game will be making an appearance on Xbox LIVE Arcade on Wednesday of this week!
It seems like Microsoft is finally easing up on restrictions on user-generated content, as this game will feature not only a full level editor, but the ability to share and download custom levels over LIVE. It also seems that Microsoft is NOT easing up on pricing for XBLA games, as Lode Runner will be priced at 1200 Microsoft space-bucks, or $15.
While most would agree that the game should cost $10, it seems that this is the new price point for quality XBLA games. Lode Runner may actually be worth the extra cash, however, as it has been confirmed to include single-player, co-op, competitive multiplayer, and even an interesting-sounding mode where you become an enemy if you get killed.
At least the game looks pretty. Here's a sample of what co-op will look like.
Your Daily Blend of Entertainment News