MLB 2K8 Gets Sage Hipster Advice For Soundtrack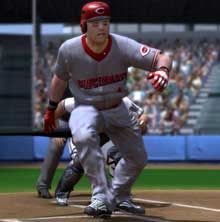 2K Sports has announced the soundtrack for Major League Baseball 2K8 this week in a press release. The developer compiled the songs with help from indie music web publication Pitchfork Media, which should make the kids who wear blazers and ironic, thrift store t-shirts happy. The following songs were selected (Pitchfork's picks are noted with an asterisk):
Battles -- Atlas*
Black Rebel Motorcycle Club -- Need Some Air
Blitzen Trapper -- Wild Mountain Nation*
Dinosaur Jr. -- Almost Ready*
Jay Reatard -- My Shadow*
Kasabian -- Reason Is Treason
LCD Soundsystem -- Watch The Tapes*
Modest Mouse -- Dashboard
Peter Bjorn & John -- The Chills
The Cars -- Moving In Stereo
The Cool Kids -- 88*
The Cure -- Never Enough
The Flaming Lips -- The W.A.N.D. - no MF edit
The Hold Steady -- Stuck Between Stations*
The Presidents Of The United States Of America -- Cleveland Rocks
The Revolution Fox Experiment -- Hyper Charlie
The Strokes -- Someday
Like the last two installments, the soundtrack for 2K8 is composed entirely of alt rock - I think. I've never heard of any of the Pitchfork selections so I can't really place them in a genre (though I have a hunch The Hold Steady isn't a gangster rap group). The idea is to give up-and-coming bands some exposure, I suppose. Each of the bands selected by Pitchfork for the soundtrack will also have bio information listed in-game.
I'm still not convinced what the best method for compiling a sports game soundtrack is. 2K Sports currently employs rock songs for its MLB series and primarily hip-hop songs for its NBA games. While that makes those games' soundtracks a little more coherent than the soundtrack for say, EA's Madden games (which feature both rock and rap under one roof), there's something off about it. I guess hip-hop fits basketball well enough but do you really associate baseball with indie rock? Think of what music plays during a sporting event. It's usually a strange mish-mash of old and new songs from different genres - as if someone had just hooked their iPod up to the stadium's sound system. I appreciate Pitchfork and 2K's attempts to give these new bands exposure but I'd rather just pick my own soundtrack.
Your Daily Blend of Entertainment News
Staff Writer at CinemaBlend.