Mario & Sonic At The London 2012 Olympic Games - Party Trailer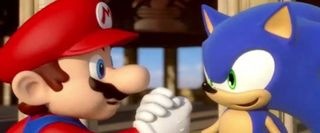 Sega released a new trailer for the upcoming Mario & Sonic At The London 2012 Olympic Games featuring a few of the 50 different party games present in the title. Gamers will get a glimpse at some of the competitive, multiplayer mini-games that they'll be able to partake in with up to three other friends.
The trailer is short and sweet and if you've grown tired of all the action games this quarter, I suppose you could find a nice little haven of family fun with Mario & Sonic. Check out the trailer below to see what's in store.
I have to admit, the graphics don't look half bad. And in some of the angles it was almost easy to mistaken the game for an Xbox 360 title. If you still have your Wii or need to dust it off to get it back in working condition, then you can look for Mario & Sonic at the London 2012 Olympic Games to land on store shelves beginning November 18th.
If you need to learn more about the game feel free to visit the Official Website.
Your Daily Blend of Entertainment News
Staff Writer at CinemaBlend.