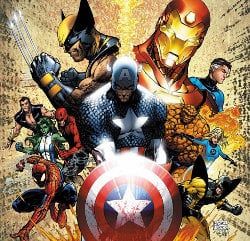 Today Sony added 40 new comics to the PlayStation Portable's Digital Comics Store. Among the additions is the seven-issue Civil War series by Marvel.
In the Civil War story arc, the government passes a Superhuman Registration Act that requires all United States citizens with superhuman abilities to reveal their true identity and receive mandatory training from the government. It was the inspiration for the plot of a recent game, Marvel Ultimate Alliance 2.
The Digital Comics Store launched in December and allows gamers to download and read comics on their PSP. There are over a dozen free comics currently available for perusal. The full list of comics added today is below.
The Avengers (1998) #56 - #67
Locke and Key: Welcome to Lovecraft #2
Nanovor: Game Day #2
Paranormal Activity: The Search for Katie
Star Trek: Countdown #1 - #4
Transformers: All Hail Megatron #8
Wormwood: Gentlemen Corpse #5: It Only Hurts When I Pee
Doubleduck
Fethry Duck and the Ghost Writer
Mickey Mouse in "War of the Worlds"
Superduck: Robber Against His Will
X-Mickey: The Day of the Forget-Me-Rats
2000AD Prog #1661
Civil War (2006) #1 – #7
Daredevil (1998) #81-#86
Your Daily Blend of Entertainment News
Staff Writer at CinemaBlend.