Marvel Heroes Comic Book Creator Now Available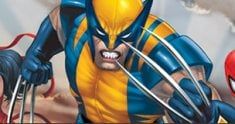 Ever wonder what would happen if Wolverine and Aqua Man joined forces with Blade and The Punisher? Well, the time for wondering is over. Gamers and comic book fans of Marvel comic book characters can now create their own visual comic book with Planetwide's Marvel Heroes Comic Book Creator.
The software application will allow users to put together their own comic book using a standard of 100 different layouts and 300 separate Marvel pieces. Players can then combine the Marvel content with their own storyline and the Marvel heroes to create a unique comic book experience of creativity. After creating these comics, users can then upload the comic books to blogs, webpages, or e-mail them to friends.
"MARVEL Heroes Comic Book Creator software empowers the inner comic book artist inside all of us that yearns to be released and free to express his or her own super powers and heroism through graphic novel storytelling with the Marvel universe of characters." said Kevin Donovan, president of Planetwide Media. He continued on to say, "Ever since I was a young aspiring artist painting the Incredible Hulk on my parents' basketball backboard, I dreamed and aspired to become a Marvel comic book creator. The day has now arrived where our proven technology enables me along with millions of new and long time Marvel Comic Book fans with the opportunity to create their own personalized comics with authentic Marvel characters."
There's also additional software packages for the Comic Book Creator called "Booster Packs". These future add-on packs will allow users to gain access to content from retro Marvel comics, Ghost Rider comics, Spider-Man and other comic brands from Marvel. The original Marvel Heroes Comic Book Creator is currently available and retails at the suggested price of $29.95. Comic book fans and Marvel gamers alike can purchase the new Comic Creator at GameStop, EB Games, FAO Schwarz New York, EB Games Canada, Wal-Mart Canada, Comic Book Stores, as well as mass market, electronics and online retailers across the United States and Canada. You can also find more information and media regarding the comic book creator at the Comic Book Creator Product Page.
Staff Writer at CinemaBlend.
Your Daily Blend of Entertainment News
Thank you for signing up to CinemaBlend. You will receive a verification email shortly.
There was a problem. Please refresh the page and try again.