Mass Effect 3 Deleted Scenes Revealed In Final Hours App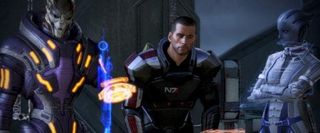 Want to know how BioWare decided on Mass Effect 3's ending? Well, now you can. The Final Hours of Mass Effect 3, now available through the App Store, offers a behind-the-scenes look at the game and its predecessors.
The 15,000 word story by GameTrailers TV host Geoff Keighley is supplemented by exclusive video and images from the development process. You'll find out how the final game came about and what ideas were rejected. There's even information about a mysterious prototype game called META.
The ending of ME3 has been hotly debated since the game launched last week. Finding out how the team ultimately decided on the ending probably won't settle that argument. But at least the app will give you a handheld version of the development team to yell at.
Here's the full list of features for Final Hours:
Deleted scenes from Mass Effect 3 and details on what was let on the cutting room floor!
Details, images and video from META, a top-secret Mass Effect prototype game.
Learn how the team approached the ending of the trilogy and see their brainstorm notes.
Exclusive video interviews with executive producer Casey Hudson and writer Mac Walters.
The first info on the Illusive Man boss battle that never happened.
The mini-game "Reaper Chase," where you have to escape the Reapers!
Never-before-seen concept art and details on the evolution of the major characters.
Interactive story sequences where you can see how choice matters in Mass Effect.
360 Degree Panoramas that take you inside the offices of BioWare.
Surprising statistics that reveal the choices players made in Mass Effect 1 and 2.
See how it started: Early footage and documents from the creation of Mass Effect 1.
Final Hours is designed specifically for the iPad. You can purchase it here for $2.99, or £1.99. A few images from the app are below.
Image 1 of 5
Your Daily Blend of Entertainment News
Staff Writer at CinemaBlend.