Mass Effect 4 Producer Casey Hudson Leaves BioWare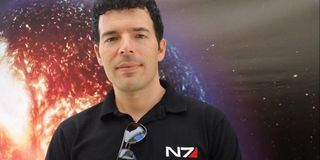 Mass Effect 4's development team just lost a key member. BioWare announced today that the series' executive producer Casey Hudson has left the company.
"After what already feels like a lifetime of extraordinary experiences, I have decided to hit the reset button and move on from BioWare," Hudson said in a letter to his coworkers. "I'll take a much needed break, get perspective on what I really want to do with the next phase of my life, and eventually, take on a new set of challenges."
"Though there's never an easy time to make a change like this, I believe this is the best time for it. The foundation of our new IP in Edmonton is complete, and the team is ready to move forward into pre-production on a title that I think will redefine interactive entertainment. Development for the next Mass Effect game is well underway, with stunning assets and playable builds that prove the team is ready to deliver the best Mass Effect experience to date. And the Dragon Age: Inquisition team is putting the final touches on a truly ambitious title with some of the most beautiful visuals I've seen in a game."
Hudson has been with BioWare almost 16 years. He began as a technical artist on MDK2 and Neverwinter Nights. He served as project director for Star Wars: Knights of the Old Republic. He's most known for leading the development of the original Mass Effect trilogy, however.
"I know I speak on behalf of the entire studio when I say that we will be forever grateful for Casey's hard work, passion, and everything he has taught us over the years – a methodical dedication to quality, a spirit of teamwork and camaraderie, and putting fans above everything else," BioWare Studio general manager Aaryn Flynn said on the company's blog. "But most of all, Casey has challenged every one of us in the studio to be better tomorrow than we were today."
Some players hold a bit of a grudge against the guy because of Mass Effect 3's ending. He defended the minimalist ending against strong fan criticism by saying he enjoyed how "polarizing" it was.
Still, that doesn't change the fact that Mass Effect is a hugely popular series among gamers. While people hold an understandable grudge about ME3, the fact is that Hudson played a substantial role in the franchise they love.
While Hudson was executive producer for the Mass Effect series, he wasn't leading the day-to-day development of Mass Effect 4. The fourth game in the series is being developed primarily by BioWare Montreal, rather than Hudson's home base in Edmonton.
Mass Effect 4 still hasn't been formally announced. However, BioWare revealed some details on the new hero and his vehicle at Comic-Con last month.
Staff Writer at CinemaBlend.
Your Daily Blend of Entertainment News
Thank you for signing up to CinemaBlend. You will receive a verification email shortly.
There was a problem. Please refresh the page and try again.